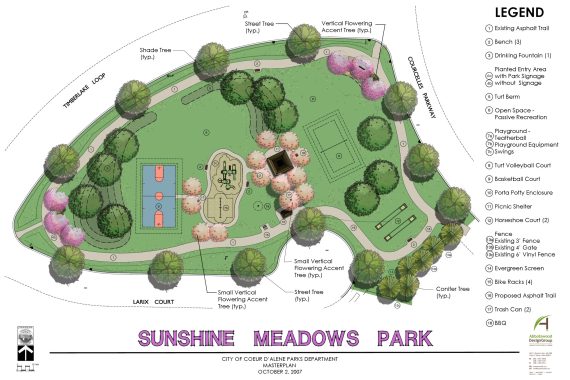 Sunshine Meadows Park
The Sunshine Meadows Park is a two-and-one-half-acre site located in the heart of the Sunshine Meadows development, at Courcelles Parkway and Timberlake Loop. The park site was deeded to the City of Coeur d'Alene in the Spring of 2007, at which time the Parks and Recreation Department began meeting with homeowners in Sunshine Meadows to create the layout of the new park. On September 20, 2007, a matching grant was awarded to the City for purchase of the playground equipment. Various meetings with the City will continue through the balance of 2007, and the construction of the new park will begin in early Spring, 2008. Completion of the park is estimated to be in July of 2008.
The park features a playground, volleyball and basketball courts, a gazebo, two horseshoe pits and plenty of greenspace. Benches and restroom facilities will also be available. Many varieties of trees will be planted with the cooperation of homeowners. Dogs on leash will be allowed on the perimeter walkways only. The gazebo may be reserved for group functions by calling the City Parks Department at 208.769.2252.
Sunshine Meadows Owners Association, Inc.
c/o ABC Escrow and Management
PO Box 3450, Post Falls, ID 83877-3450